As you can see from the pictures, this is truly a one of a kind "Eleanor". There is so much detail in the car that you really must see it in person to appreciate all she has to offer.
When I first saw the movie "Gone in 60 Seconds" I knew I had to have this car. Eleanor has taken me 2 years to build and it was a long and rewarding process in which money was truly no object.
This award-winning car project started off as a spotless, rust-free Arizona car with all numbers matching.
Since her restoration, Eleanor gets major looks wherever she goes, although she only has 8 miles on the odometer since her rebirth.
1967 GT 500E SHELBY MUSTANG – ELEANOR
The Body
The entire body was media blasted and epoxy primed. All fiberglass pieces were molded with 3M Panel Bond.
The entire body was then blocked and primed 3 times over until I knew it was absolutely perfect.
Next came 2 coats of sealer and 2 coats of basecoat. Once baked and wet sanded, 2 more coats of basecoat were applied, then 4 coats of clear.
Final wet sand and a wheel brought out the flawless finish you now see here. All this attention to detail speaks for itself when you see the car in person in ANY kind of light. The finish is second to none.
The Interior
The interior is a nice mix between original and custom featuring an authentic Carroll Shelby autograph on the dashboard, hand-stitched Carrol Shelby signature front seats, and white face gauges.
Billet aluminum pedals from Total Control Products and a custom T-handled shifter sporting the Shelby name finishes off an outstanding cockpit.
The Engine
600 plus Horsepower doesn't come easy. Eleanor is powered by an SVO R-302 that has been balanced, blueprinted and stroked to 365 CID.
Fuel is delivered by an 850 Barry Grant Speed Demon carburetor that sits on top of a ported and polished Eldebrock Victor Jr. intake and heads with titanium everything.
A 150 HP NOS system pushes Eleanor's get-up-and-go to the extremes. Thanks to Lido at Alternative Performance in Mt. Clemens, Michigan for an outstanding job on a killer motor.
The Driveline
All that power is run through a Tremec 600 5-speed manual transmission that can handle 1,000 HP / 1,000 Lbs of Torque.
An aluminum driveshaft connects to a DriveTrainSpecialist's 9-inch positraction rear end sporting 4:10 gearing that can pretty much liquify the GoodYear 245 ZR 17's in a heartbeat.
The Suspension
Eleanor takes on corners like a Mercedes due to a Total Control Products adjustable front and rear coil-over suspension package with the power steering option.
Slowing her down is not a problem with 13 inch, 4 wheel disc brakes with ABS.
More Stuff
This car just has too much to list it all here, but here are a few more details:
Total Control Products Strut Tower Brace Kit
PS Engineering GT-40 Wheels 17x8F 17×9.5R
Rare original 1971 Mach1 Gas Cap
Tony Branda Shelby Steering Wheel
Correct PIAA Headlamps/Foglamps
FuelSafe 16 Gallon Racing Fuel Cell
JBA Headers / Stainless Exhaust
1967 Shelby GT 500 Eleanor Pictures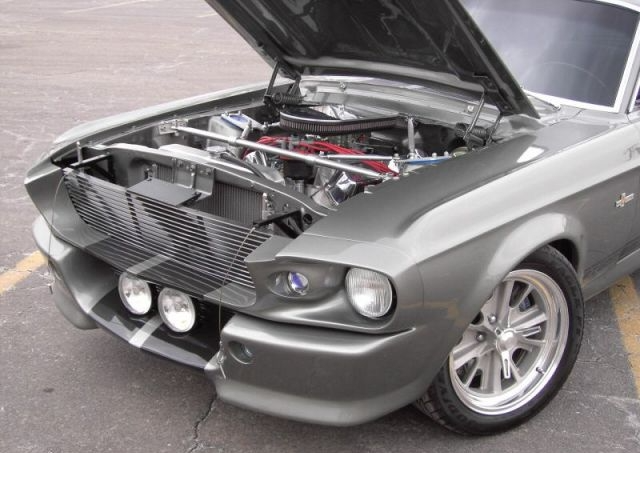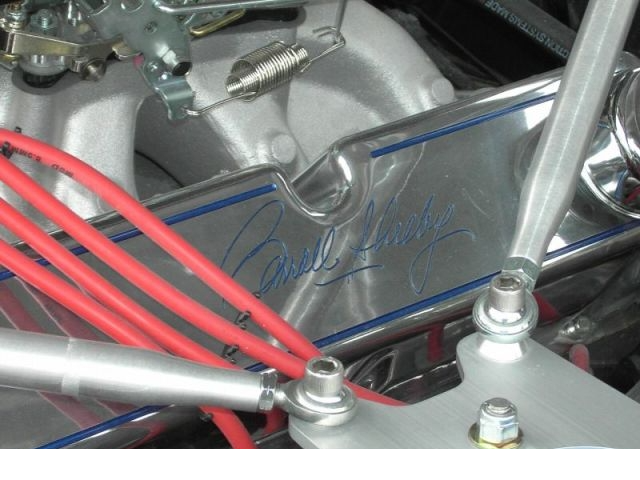 (Original text from 17 May 2006)
What do you think is the secret of maintaining such a powerful engine? Yes, that's right – quality synthetic oil. But with the engine oil change, you should also change the oil filter of your Shelby, too. Check out our oil filter recommendations here.
We are sure you noticed how glossy looks this Shelby GT 500. There is one way to achieve this effect – with a professional car wax that you can find in our list.
Big engines require "big" car batteries. In case you need one for your Shelby, have a look at the car batteries recommended by the industry professionals.