The overall lifespan of a car battery may widely vary depending on its quality and the way it is used. Car batteries have a certain discharge rate and with time they are flattering especially if you are not driving your car frequently.
Very often, the charging provided by the alternator of the car is not enough, particularly when you are taking short-distance start-stop trips within the city. Low temperatures have an additional negative impact on the batteries.
Therefore, a crucial factor for maintaining and extending the life of a car battery is a timely and proper way of recharging.
We are here to present you the best car battery chargers on the market and help you make a wise and informative decision which best suit your needs.
For our extensive research, we have consulted with experienced mechanics and industry professionals who helped us narrow our picks to the best, most reliable, and useful car battery charges.
The Best Car Battery Chargers
1. NOCO Genius1 Car Battery Charger | Editor's Choice
First on our list comes the NOCO Genius1 because of its functionality, reliability, multi-purpose usage, and irresistible price.
We love this product because we have tested it ourselves and it has some really amazing smart features that do the thinking for you.
We'll start with one of the safety features that are very important and it seems that a lot of people have discovered it the hard way.
When attaching the charger to your car battery you need to hook it up on the right terminals.
If you unintentionally connect it the wrong way, don't worry, nothing will burn but the NOCO Genius1 will indicate you and won't start charging unless you hook it up properly. This is the so-called reverse polarity protection feature.
Furthermore, this car battery charger effectively observes the charging process to ensure efficiency and prevent eventual overcharging which could be disastrous for the battery.
The NOCO Genius1 can be utilized for charging regular cars, SUVs, trucks, motorbikes, boats, and all kinds of vehicles using 6V and 12V lead-acid automotive, marine, and deep-cycle batteries, including flooded, gel, AGM, and maintenance-free, plus lithium-ion batteries.
In the beginning, we said "multi-purpose usage" because the NOCO Genius1 is not a simple charger but it can also be used as a maintainer to keep your batteries fresh and charged while your vehicles are not in use for long periods of time.
Believe it or not, it also charges dead batteries as low as one 1-volt. Furthermore, it also allows manual charging of dead batteries down to zero volts using the lately introduced force mode.
Overall, the NOCO Genius G1 is a multi-purpose car battery charger with smart features in it which really makes your life easier. Except as a standard charger, it can be used for maintaining, trickle charging, and battery desulfator.
Key Product Details ✅
6V & 12V Lead-acid and 12V Li-ion battery charging
Suitable for Wet Cell, Li-ion, Gel cell, AGM, Calcium, Enhanced flooded, and all maintenance-free batteries
1 Amp charging current
The integrated thermal sensor prevents over-charging
Advanced battery maintainer
Repair mode for highly sulfated batteries
2. CTEK (40-206) MXS 5.0 12V Car Battery Charger | Best Smart Car Battery Charger
The CTEK MXS 5.0 is the newer, updated, and improved model of the CTEK MUS 4.3 which has been serving more than well to thousands of people over the last years. The company now deiced to upgrade it and give even more value to its loyal customers.
The MXS 5.0 appears to be one of the best charging products CTEK has made so far with its exclusive eight-step method to battery maintenance and incorporated automatic temperature sensors.
The manufacturer did not forget to think about the safety features too and equipped the MXS 5.0 with an in-built reverse polarity and spark-proof protection.
Using the MXS is really simple and you can go through all the different programs with only pressing a single button.
The charger's programs are divided into two main categories – cars and motorcycles (small batteries). Each of the categories has four different options to set the charging modes.
A very useful charging mode is the "Recond" which is specifically designed to recondition your old battery even if you think it is already dead.
An "AGM" is another interesting mode that is specially designed for cars armed with automatic Start/Stop technology.
A really useful testing program is also incorporated that lets you examine the health of your battery, starting power, and alternator.
And for those of you with vehicles that are not being used so frequently, the advanced maintenance mode will certainly be beneficial.
Key Product Details ✅
Appropriate for all batteries from 1.2 Ah to 160 Ah
Supports all types of lead-acid batteries, Wet, AGM, Gel, 12V, MF, CA/CA
Exclusive reconditioning mode
Spark proof and reverse polarity protection
Cold weather program
3. Battery Tender Plus 022-0185G Car Battery Charger|
Best Battery Charger And Maintainer
While most of the people are still recommending the older model of this charger, we will keep you up to date and present you the newer, better "Plus" model by Delran.
This upgraded Battery Tender Plus was made to be compliant with the California state rules and regulations. What this means is that it gives the same output to your battery as the old one but consuming much less power resulting in lower electricity bills for you.
With a fancier and lighter design, this car battery charger is completely automatic with a smart four-phase charging program.
Not only the Tender Plus will charge your battery but it can also maintain it fully charged while you are not using your vehicles.
An internal controller constantly checks battery condition and ensures the charger is supplying just the right amount of energy in order to charge the battery correctly without overcharging or damaging it.
After it is completely charged, the Battery Tender Plus will automatically enter a float charging mode.
Safety is no less important and Tender Plus has reverse polarity protection along with a spark resistance feature.
The Battery Tender Plus is ideal for regular cars, SUVs, ATVs, Boats, Motorbikes, RVs, and all other vehicles with a corresponding battery.
Key Product Details ✅
12 Volts DC at 1.25 amps
72 hours safety timer
Works with all flooded, lead-acid, and maintenance-free batteries, AGM, Gel Cell
ISM Adaptive Charging Technology
Charger and Maintainer
4. Schumacher SC1305 Automatic Car Battery Charger | Best Battery Charger Jump Starter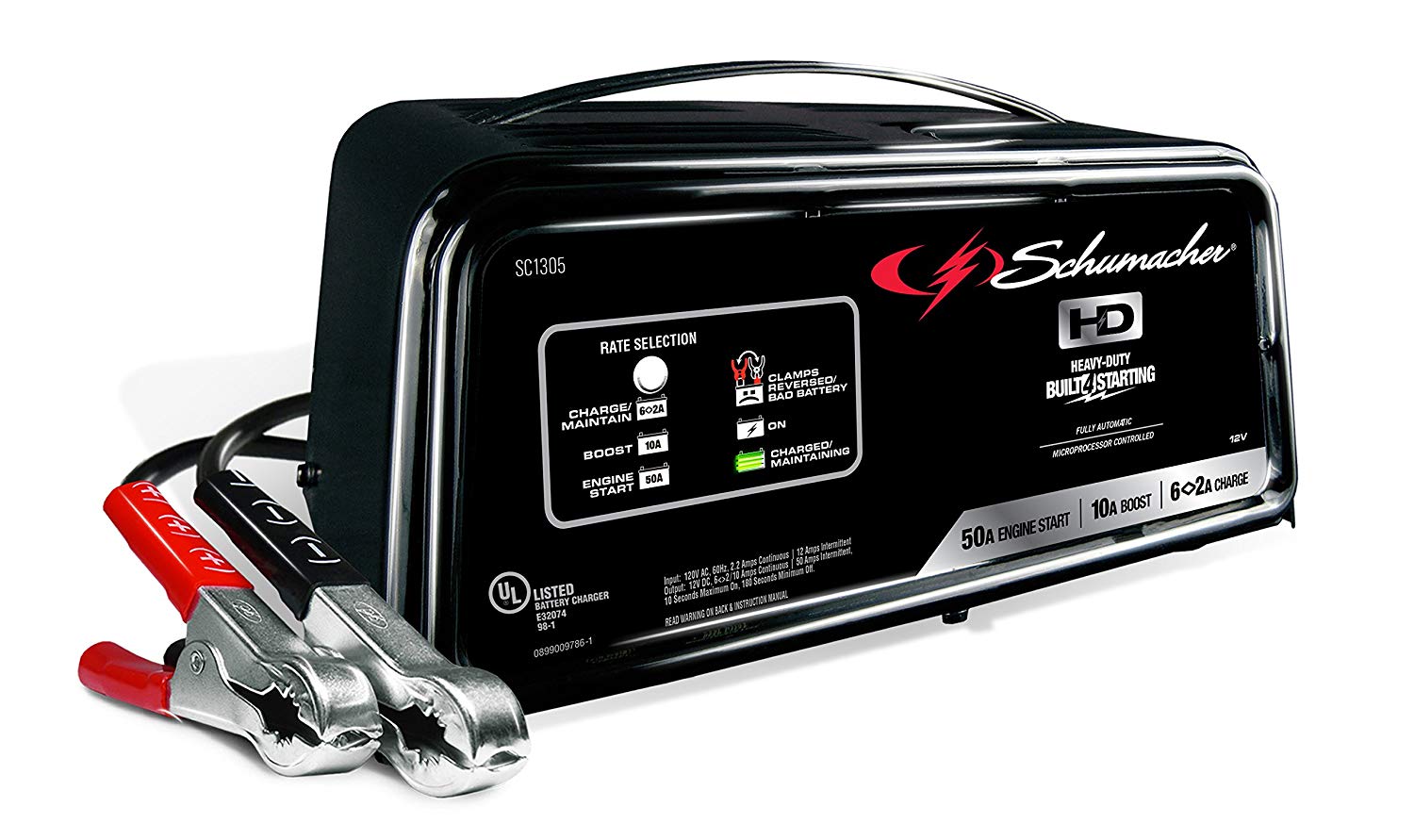 Schumacher SC1305 is a completely automatic, microprocessor regulated device which automatically changes the amperage rate and brings the exact amount of power needed for accurate charging and preserving battery health thanks to the multi-stage charging technology.
The innovative microprocessor helps the Schumacher SC1305 determines when the battery is fully charged and automatically switches on to the maintaining mode.
This feature is so convenient and time-saving because you do not have to observe the charging process all the time and manually switch between the programs.
Another great feature of this product that is not often seen in the other competitors is that with its 50A it serves as an engine starter when your battery is dead and needs a boost to start the engine.
Speaking about safety, it is equipped with a LED flashlight which indicates if you accidentally hooked up the clamps on to the wrong terminals.
Key Product Details ✅
12V, 10A boost mode, 50A engine start
Car battery charger, maintainer, and engine starter
Works with standard and AGM batteries
Float mode monitoring
Microprocessor controlled
Can be used for cars and marines
6. BLACK+DECKER BC6BDW | Best Battery Charger For Dead Batteries
The BLACK+DECKER BC6BDW is a completely automatic 6-amp charger with an IP67 rating that guarantees it is a completely water-proof item and can be used outside while raining, snowing or it can also be used on boats without the worry about the impact of humidity or water drops on it.
Coming at a very reasonable price, it is fully equipped with safety features like reverse polarity protection, short-circuiting, and overcharging prevention.
For further convenience and versatility, it provides two different connection possibilities which include the 12V DC accessory plug and battery clamps.
BLACK+DECKER BC6BDW is a high-frequency battery maintainer that not only will charge your battery but will also maintain it at the proper charge level when left connected for an indefinite time.
One of the best features of the BC6BDW is that it can completely charge every vehicle battery that is capable of being recharged. Even completely drained and dead batteries can come back to life with the help of this smart and easy to use charger.
Key Product Details ✅
Suitable with all 12V Gel, AGM, Wet automobile, and marine batteries
Two different connection types
Charger and maintainer
Water-proof
Completely automatic
7. Samlex Solar SEC-1280UL | Best Heavy Duty Battery Charger
The Samlex Solar SEC-1280UL is a little different than all the chargers that we have presented above.
It is one step better because it can not only fit at home but it is rather made to be used in commercial places and garages.
A heavy-duty, sturdy product with perfect customer support from Samlex America, this is probably the one and only charger on the market when taking into consideration the quality-price factor.
Samlex Solar SEC-1280UL is a completely automatic car battery charger suitable for operation with all 12V Lead-Acid batteries, AGM, Gel Cell, or Flooded.
It is strong enough to charge two sets of batteries at a time and it may additionally be used as a DC power source.
Even though the Samlex Solar SEC-1280UL has much power to show, it operates surprisingly quiet and the fan is cooling according to the output current.
Safety is not underestimated here and the unit is equipped with overheating and overload protection. It also has a short circuit defense and reverses polarity protection.
Key Product Details ✅
3-stage completely automatic 80-amp charger
Compatible with all Lead-Acid batteries, AGM, Gel Cell or Flooded from 120V, 60 Hz, or 230V 50 Hz AC source.
Temperature sensor to prevent under or overcharging
Fan cooled, equipped with Voltmeter and Ammeter
2-year warranty
5. SUAOKI 4 Amp Car Battery Charger
Coming at a very reasonable price, the SUOKI has everything one can expect from a quality car battery charger.
It is considered a smart charger because it automatically detects whether your battery is 6V or 12V.
After detection, the SUOKI will run into an eight-stage charging course ensuring your battery is properly handled with all the necessary steps in order to supply an efficient and safe charging process for your battery.
Once the battery is completely charged, SUOKI will lower the current and maintain it to the appropriate levels in order to keep it fresh and ready for the next ride.
It has a large LCD display giving you all the essential information about the battery status and voltage during the course of charging.
Speaking about the safety features, the SUOKI will indicate and postpone the charging if it detects that the clips are not hooked up properly.
The spark-proof clamps, overcharging, and overheating protection are another very important features that take care of your and your battery and car safety.
There is also a specifically designed program that detects and tries to restore already damaged and sulfated batteries.
All in all, a real quality charger with all the essential features which comes at a very reasonable price.
Key Product Details ✅
Suitable with all AGM, Li-ion, and SLA batteries
Large LCD display
Output – 6V and 12V
Sulfated battery recovery mode
Charger and Maintainer
The Best Car Battery Chargers Buying Guide and FAQ
How To Charge A Car Battery Using A Battery Charger
Charging your car battery is not a difficult task especially taking into consideration the modern car battery charges which are fully or at least semi-automatic.
But even though it is simple to use today's car battery chargers, you need to follow the right steps. We have listed some very easy instructions on how to charge your battery HERE.
To make it even easier for you here is a very useful, straight to the point video:
Safety Tips When Using A Car Charger
Car batteries are full of electrolyte which has sulfuric acid in it. Avoid contact with electrolyte!
Even though the acid concentration in the electrolyte is not high, if it drops on your clothes or skin, it will surely burn them.
We strongly suggest charging your battery in ventilated spaces if that is possible. When charging, an explosive gas is released which may be ignited by a spark.
If the car battery is very discharged, it will initially pull out a large amount of current. During the charging process, the current value will begin to drop and the voltage slightly increases.
Do not let the battery charging process unattended. It is necessary to periodically check the temperature of the cells.
If the battery starts to heat up too much on one of the sides, stop the charger and wait for the temperature to return to normal.
How To Choose The Proper Car Battery Charger
Before selecting the proper car battery charger for your needs, we strongly recommend that you have a good read of our recommendations above and decide what exactly are your requirements.
Very often it happens that people who are not familiar with the functionality of a specific charger choose it wrongly and it ends up to be not the proper one for their battery and needs.
Therefore, if the charger does not supply the required power, it is possible to shorten the life of your car battery significantly.
This is because, at a higher voltage, the battery will overcharge and may be damaged, and at a lower voltage, it will not be charged to its full capacity.
And as we have mentioned before, if the charger does not supply enough power, this can lead to only 80% charging your battery.
This means that the battery may not have the required charge for the purpose, which may contribute to its faster depletion.
In order to prevent that, you need to know with what amperage the car battery charger is charging, knowing that the higher the amperage, the faster it will charge.
And our personal opinion on that subject is that the slower the charger is charging, the better for your car battery.
When should I recharge my car battery?
When a vehicle is not being used over a long period of time, the battery is deprived of charging. This, combined with the fact that modern cars are full of electronics and gadgets which constantly consume energy is the reason for batteries being discharged.
Even when the battery is not connected to the car, it is self-discharging.
Measuring the voltage with a multimeter is the best way to tell whether a car battery should be charged.
Why despite the correct charging method, I cannot fully charge my battery?
If your car battery has been discharged for a too long period of time, it is very likely that it has already gone through irreversible processes of sulphation.
The longer the battery is left completely drained, the more difficult it will be to restore its capacity to 100%.
A widespread recommendation is to charge the battery with a charge of 1/10 of its capacity. For highly diluted batteries, this is not the case.
Charging a highly drained battery on the above scheme will make it unusable and you will need to replace it with a new one.
When charging a highly discharged battery, the charging current should not exceed 1/20 of its capacity. For example, on a 60Ah battery, the current should be limited to 3A.
How long should I charge my car battery?
We've heard a lot of self-made "mechanics" claiming that a car battery can be fully charged exactly for one night.
This statement is not only false but is also dangerous for the battery. The charging time of a car battery depends on the following factors:
To what extent the battery has been discharged before plugging it into the charger
The charging current (amperage)
The degree of sulphation on the surface of the active mass
For example, if you plug into the charger a 60 Ah battery not with the maximum allowed 6 amperes (1/10 of the capacity) but with a 2-amps light current, the charging time will, of course not be one night.
On the other hand, if you just removed the battery from the car after a long journey and connect it to the charger, it may fully charge in only about 2-4 hours.
Amperage and voltage in a car charger
Amperage
The amperage shows how much current the car battery charger is able to deliver to the battery.
Therefore, car chargers with higher amperage would deliver a higher current to the battery and charge it faster.
As we already mentioned above, fast charging your battery may result in shortening its life and we claim that the best option to charge is with lower amperage for a longer time.
Voltage
Most car batteries today are 12V, motorbikes 6V and truck's 24 volts. It comes to your needs to choose whether you will want to buy a car charger that works with 12V batteries only or such that support 6V, too.
Smart chargers nowadays are able to self-detect the voltage of the connected battery which makes the entire process a lot easier and minimizes the chance of mistake in case you charge a motorcycle battery right after charging a car battery.
Is it better to charge a battery slow or fast?
As we already mentioned above, we strongly recommend slow charging. Fast charging your car battery may result in damaging and shortening its life.
If you want to preserve, extend the life of your battery, then make sure to slowly charge it. A slow or fast charge may be different for different types of batteries. Refer to the owner's manual of your car battery charger for further instructions.
Do I need to add water before charging my car battery?
Nowadays most of the batteries are maintenance-free, meaning that you can not and you don't have to add water.
In case your battery is is not maintenance-free, open the caps and check if the level of the electrolyte has dropped. In case it is, fill enough ONLY with distilled water.
Should I take off the caps of my car battery when charging it?
In case your car battery has cell caps on the top, you need to open them all prior to starting the charging process. After the charging is complete, wait at least an hour before closing the cell caps.
Do I need to disconnect the car battery before charging?
Newer models of a car battery charger with all the protection and safety features inside do not require disconnecting your car battery before charging.
Furthermore, if you have an older model of a car battery charger or you are not sure of its safety features, you better disconnect the battery. Removing from the car is not necessary.
Conclusion
There are various types of car chargers on the market today so to choose the best one you need to think about your needs, how often is going to be used, how many vehicles do you have in the household, and so on.
We often suggest not going for the cheapest ones because they usually end up being the most expensive in the long term.
Buying a smart charger with good quality will save you so much money by preserving and extending the life of your car battery, especially if there is more that one car in the family.